10 Apr

Treasures of the earth – part 2

Julie Franklin's trawl through Headland's treasure chest continues with numbers 11 to 20 from her list. Again, the finds are in no particular order and highlight the breadth and depth of Headland's past finds, in terms of materials, techniques, functions, geography and time. From shiny gold and enamel to more humble carved stone and fired clay, Neolithic to modern times, the Scottish highlands to English heartland. Finds that accompanied the dead and finds which were dumped on rubbish heaps. Dress accessories, containers, tools and building materials.

As a finds specialist you never know what is going to land on your desk. That's why we love what we do. There were so many more amazing finds we could have included. Keep your eyes on our social media for more finds news.

Gold lace tag, 16th century, Kisimul Castle, Isle of Barra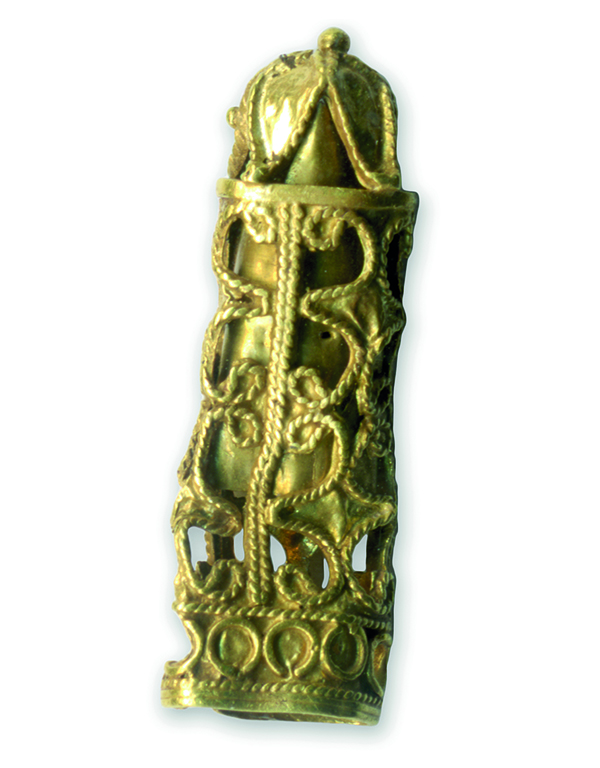 Less than 2cm long but decorated with the most intricate gold wire filigree decoration imaginable. This would have tipped the end of a plaited silk lace and would have been one of a number of similar finds forming a decorative spray on a very expensive 16th-century garment. It would have belonged to either the MacNeill clan chief or one of his honoured visitors.
Carved grave slab, early to mid 13th century, Old High School, Edinburgh
This was one of our largest (and heaviest) finds, at 1.69m long. It was remarkable because, although these stones are a well-known and widely-distributed type of medieval monument in the north of Britain, they are rarely found in situ. This one was found covering the grave of a young man in an area that would have been within the cloister ambulatory of Edinburgh's Dominican friary that stood on the south side of the Old Town. The incumbent, or his father at least, must have been one of the friary's wealthy benefactors. The slab dates to the early years of the friary's foundation in c.1230. A local swordsmith was inspired to make a replica of the sword depicted on the stone.
Faience beads, early Bronze Age, Ness Gap, Fortrose, Ross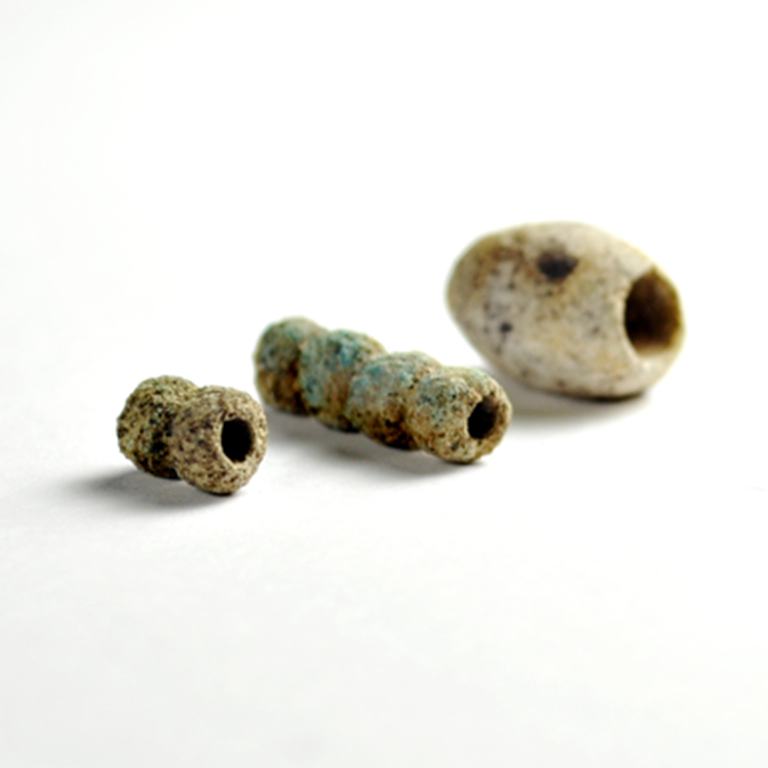 These three beads were found within a Cordoned Urn containing cremated human remains and probably formed part of a necklace worn by the deceased. They have clearly gone through the funeral pyre with them. They are made of an early type of glass involving a hardened siliceous paste core with a copper-derived glaze and would originally have been turquoise in colour. The pot had been damaged by a mole which had burrowed through the side of the pot and dislodged one of the beads outside. There may originally have been more.
Copper alloy gilt and enamel bishop's crozier, 1150-1200, Whithorn Priory, Dumfries & Galloway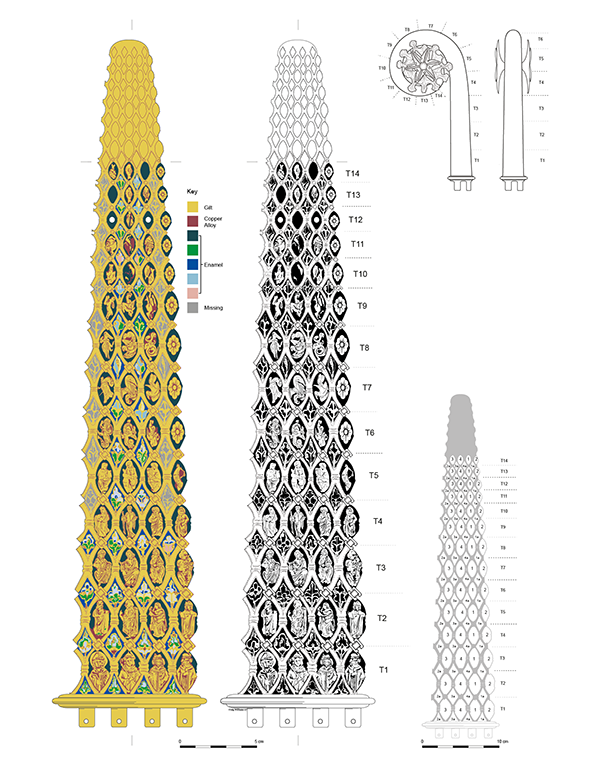 We didn't actually find this but we were the first people to fully illustrate it as part of our project to publish Roy Ritchie's 1957-67 Whithorn excavations. It was discovered in 1960 in the grave of a bishop, possibly Simon de Wedale, who died in 1355. The crozier shaft is decorated with many small enamelled panels featuring figurative, animal and floral designs. You can read all about Ritchie's, and our, discoveries in the book we produced. The crozier itself is on display at the National Museum of Scotland, Chamber Street.
Copper alloy brooch, pin and amber beads, mid 5th-mid 6th century AD, Norwood Farm, Northamptonshire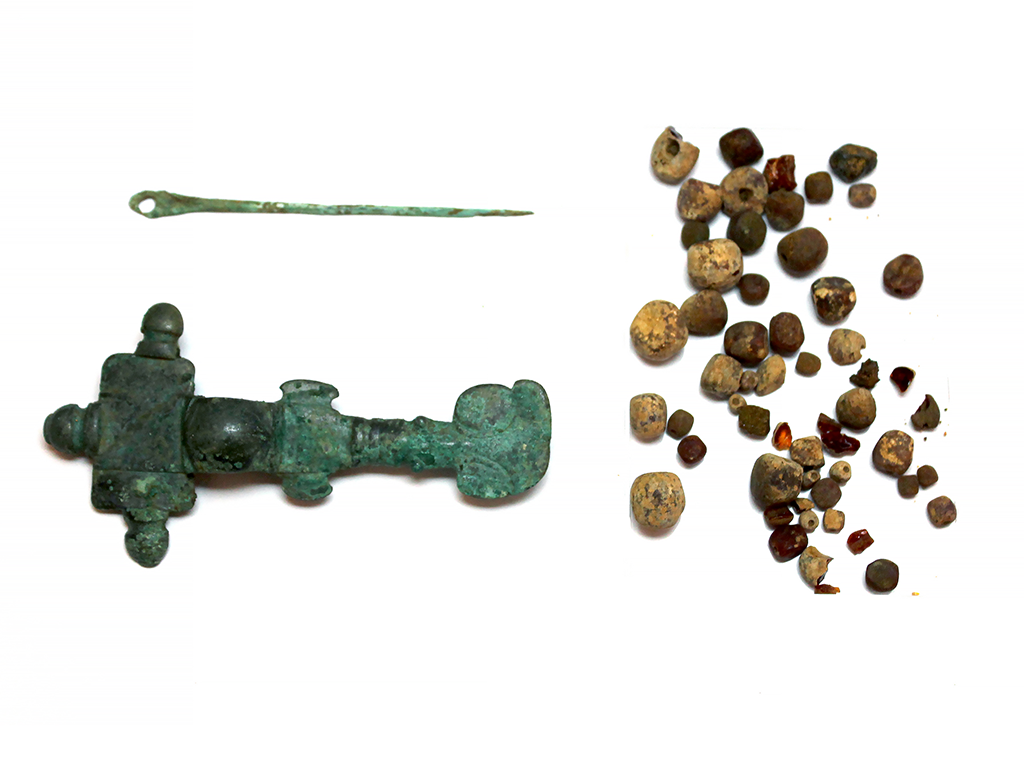 Early Saxon burials often contain interesting finds. Two burials found during trial trenching at this site were of a young adult and an older adult. They were accompanied by a grand total of five brooches, one pin, three glass beads and a big collection of amber beads.
Ground stone axe, middle Neolithic, Meadowend Farm, Kincardine, Clackmannanshire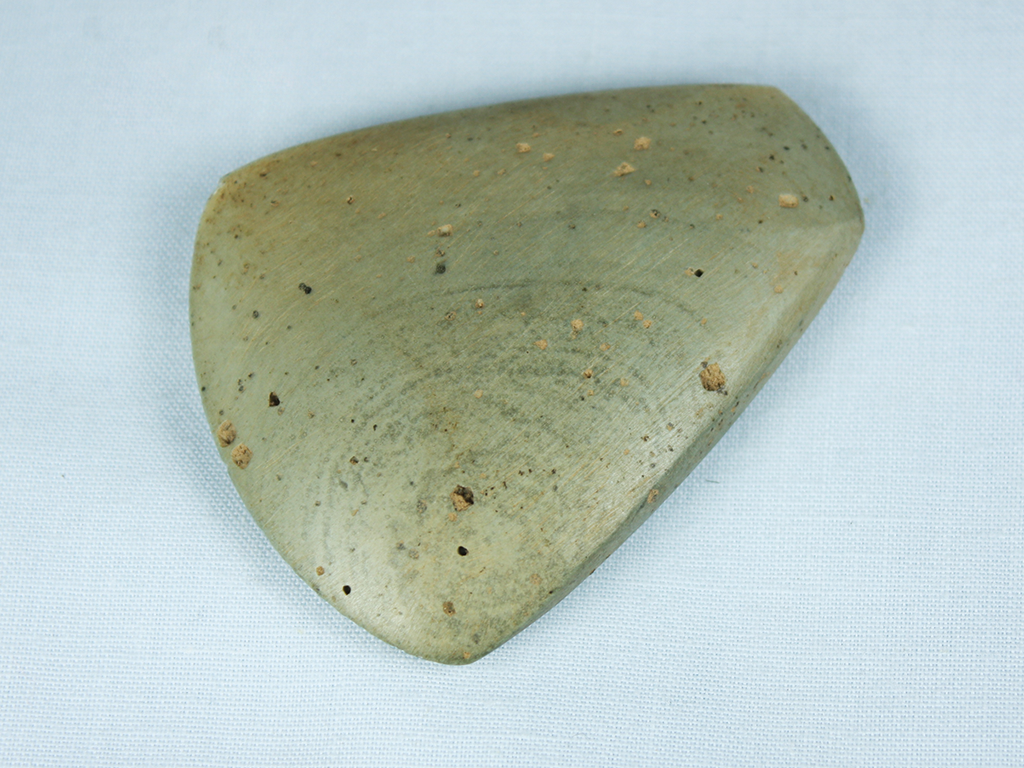 This is a particularly beautiful example of a stone axe, found lying on the old ground surface close to a middle Neolithic pit group. Axehead finds of any description are rare on settlement sites, although broken axeheads, or axehead flakes, are sometimes found. It is made of a distinctive banded fine-grained metamorphic stone, pale green and cream-coloured on one side and pale green with concentric dark-green banding on the other and derives from the Neolithic quarry at Creag na Caillich near Killin, Perth and Kinross. Only thirty confirmed examples are known of axes made from this stone with most being found further north between the Tay and the Moray Firths, although a few far-flung examples are known from England.
Copper alloy and enamel brooch, 1st century BC-1st century AD, Culduthel Mains Farm, Inverness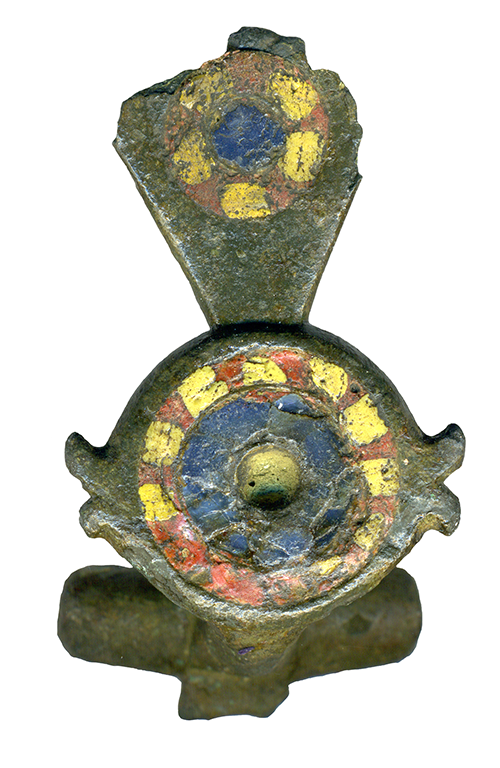 Found in an abandoned roundhouse, this is a substantial and striking example of a disc and fantail brooch, decorated in red, yellow and blue enamel. It is of Roman manufacture, indicating contacts with the Roman Empire to the south but fits with local tastes. The type is rare in indigenous contexts.
Miniature collared urn, early Bronze Age, Commonhead, Swindon, Wiltshire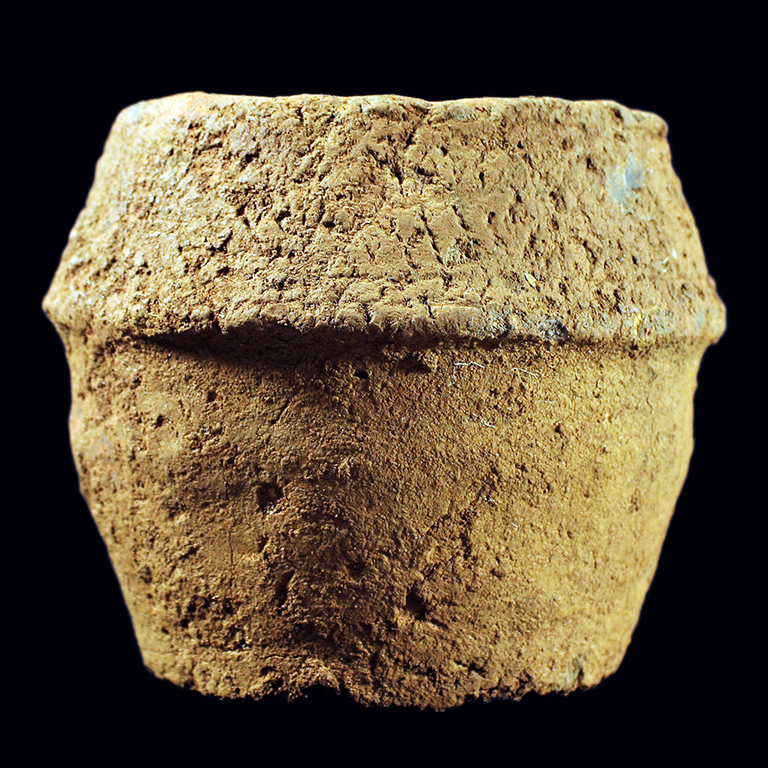 While collared urns are regular finds, miniature versions are far less so. This near-complete pot, found in a pit, is only 11cm high. The decoration is very worn but is typical of the period 1700-1500 BC.
Iron shackle padlock, 13th or 14th century, Clyde Windfarm, South Lanarkshire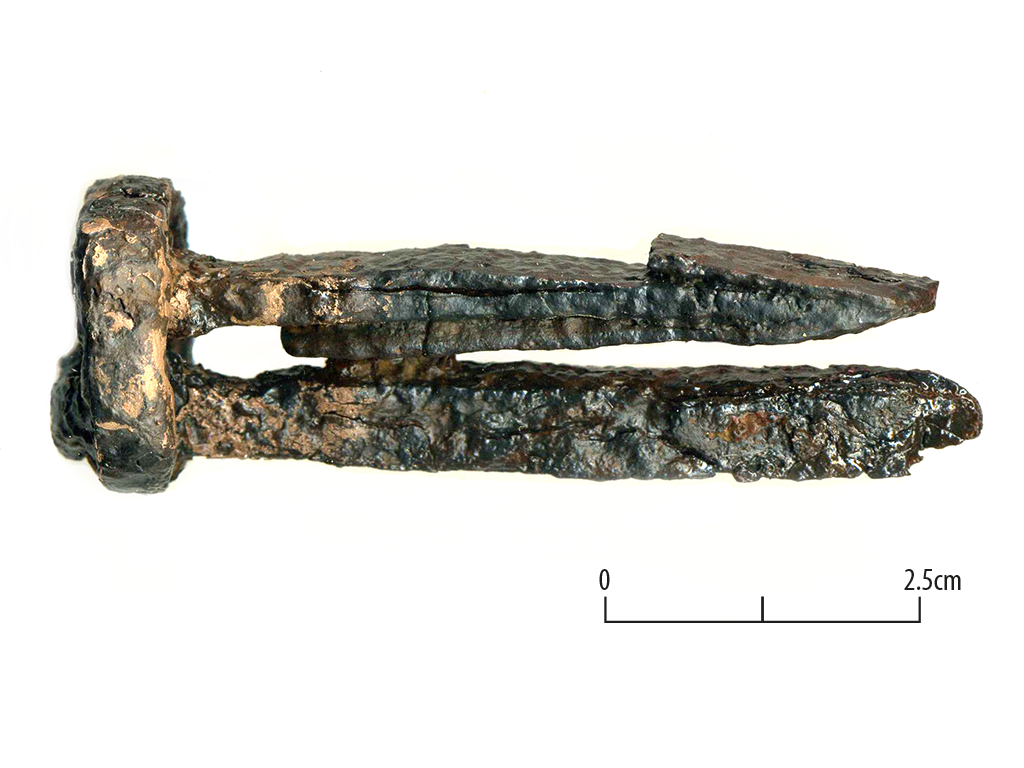 If finds could talk, this one would have an interesting tale to tell. It was found in a ditch near a rural farmhouse. The form of the padlock indicates it would have been used as part of a shackle rather than an ordinary padlock for securing a chest or a door. The inhabitants of this house would have had no use for this and probably would not have been able to afford it. It is possible that it was lost either during an attempt to arrest someone or during an escape. Given the history of warfare in this area during the late 13th and early 14th century Wars of Scottish Independence it is possible to imagine a number of exciting scenarios, particularly given the presence nearby of a broken jug.
Maiolica floor tile, 1520s-30s, Jeffery St, Edinburgh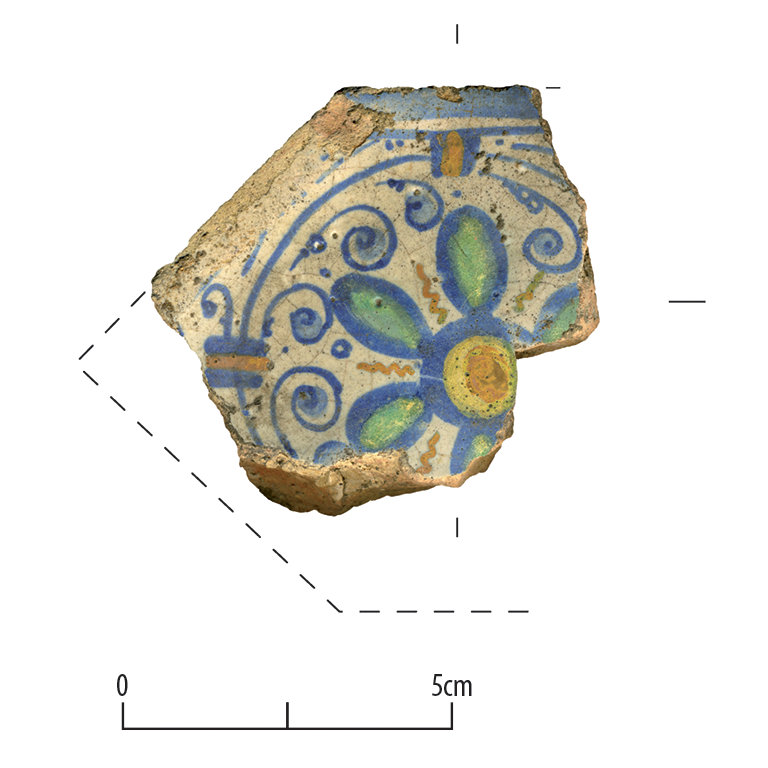 This was identical to tiles in a floor in Herkenrode Abbey, Belgium which were laid in 1533. In England, tiles of this type are found at a number of very high status sites, all dating to between c.1520 and c.1540 including the royal sites of the Tower of London and Whitehall Palace. The Edinburgh tile has been tentatively linked to wealthy courtier, Adam Otterburn, who owned a house in the vicinity of the findspot. You can find out more in the online publications.