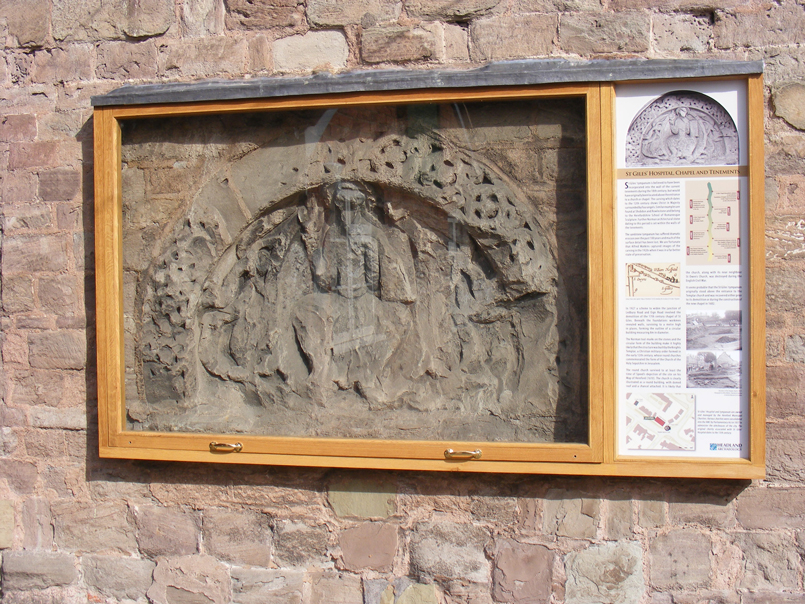 07 Aug

The Tympanum at St Giles Hospital in Hereford

The commission to produce a frame surrounding a 12th century tympanum took us a little outside our usual range of projects. The frame was produced by a local oakwright following a brief from us. The frame needed to be sturdy and traditional and we opted to use strengthened glass rather than perspex, to ensure a clear view of the tympanum behind.

We were asked to produce an interpretation panel explaining what the tympanum was. The existing panel was simply a sentence stating that the tympanum had been moved to its current location from a nearby church. In itself, the tympanum is not particularly impressive; however visits to the records office and local library uncovered a large amount of information regarding the origins of the tympanum and the connection of the site to the Knights' Templar.

Luke, senior archaeologist for the project, remembered seeing a picture of the tympanum in a local guide book. The photo was taken in 1927 and showed a lot more detail than the badly weathered carving surviving today. Tracing the original slide to Hereford Museum and obtaining copyright to use the image took a little detective work, but the value of having the image as a 'tympanum' to the main text is clear.

In 1927 a road widening scheme revealed the foundations of a Templar church 50m away from the building in which the tympanum is inserted. It seems highly likely that the tympanum was originally set above the entrance way to this church and was moved to its current position (set into the side wall of an almshouse) in the late 18th century. The church itself was destroyed during the English civil war.

The client, The Hereford Municipal Charites, is very impressed with the finished product. An obscure part of Hereford's history is now advertised for all to see. The public can now engage with the history of the site, and our client has a permanent advert for its charitable work.

To see more images from this project, check out our portfolio at Behance.