03 Apr

Building Careers and Enabling Infrastructure
Headland Archaeology has been operating for over 20 years and as one of the UK's leading commercial organisations we would like our skills and knowledge to have a positive effect on the industry. Preparing new archaeologists for successful and rewarding careers has helped both our company and the industry grow and flourish. Despite this, increasing demands from large infrastructure developments have pushed resources across the UK to capacity.
At the start of 2017 the situation facing the Heritage industry is all too clear; we are facing high levels of work without the workforce to match. Last year Historic England released an assessment of 'National Infrastructure Development and Historic Environment Skills and Capacity' which confirmed that the situation is serious. The most affected are skills shortages and gaps in fieldwork but attention was also drawn to significant skills shortages in post-fieldwork analysis.
Early last year, in anticipation of the current situation Headland pro-actively appointed Julie Lochrie as Training Manager to co-ordinate the provision of training at all levels throughout the company. The post has been successfully held for a year and the training team is expanding even further with the appointment of a Training Officer who starts May 2017. This will ensure that we are using skilled  staff to train others and alleviates pressure from the already depleted fieldwork sector.
Many factors have contributed to the situation we currently find the industry in and Headland is not only committed to encouraging people back into the industry but to provide sustainable options for career development. In 2008 the higher education academy produced a report on the role of fieldwork in teaching and learning in archaeology. It established that 57% of graduates were interested in careers in archaeology and the majority wanted more practical fieldwork experience. An undergraduate archaeology degree does not produce a fully-fledged professional archaeologist, rather it prepares graduates to embark on a career within the heritage sector. To encourage graduates into commercial archaeology we have visited several UK universities and delivered presentations on 'understanding the industry', advice for 'career paths'. The lack of entry level jobs must be considered the biggest block to graduates considering a career in commercial archaeology and to this end apprenticeships and trainee level roles are being developed. These roles will develop archaeological skills alongside professional practice and in some instances target established gaps in the industry.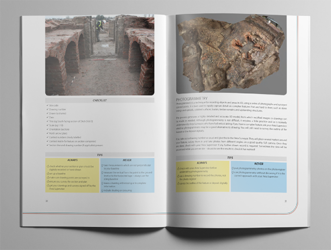 Enabling people to enter the industry helps with the skills shortage we are facing but developing those skills into a long term career requires a commitment to personal development. During the last year we have increased our efforts in identifying and encouraging talented individuals within the company; not only can we aid them in their own professional development but we can ensure that exceptional staff are the ones mentoring and coaching inexperienced staff. We strongly believe that learning and development benefits all and should be engaged with on a daily basis.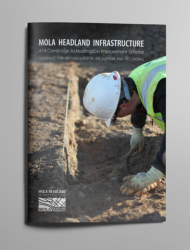 With such large projects on the horizon, in some cases already underway, the need to consider project-specific training strategies is where our training team can really excel. Our biggest  achievement of the last year was implementing our first training strategy on a large infrastructure project in collaboration with a partner. The design included a focus on preparing staff from the earliest opportunity. We wanted to give confidence by ensuring every member of the team was briefed before even arriving on site. Our introductory package included a series of informal presentations, a Project Specific Recording Manual and a basic toolkit. As the project continues it will benefit from dedicated training staff who will provide on-site training, mentor inexperienced staff, identify talented team members and encourage a culture of learning and development. As every project is unique, this custom-designed approach allows us to deliver what both our clients and our staff need.
The passion archaeologists have for what they do is truly remarkable and moving into the next year we will continue to encourage their passion, develop skills and promote a strong culture of learning and development within the company and the industry.