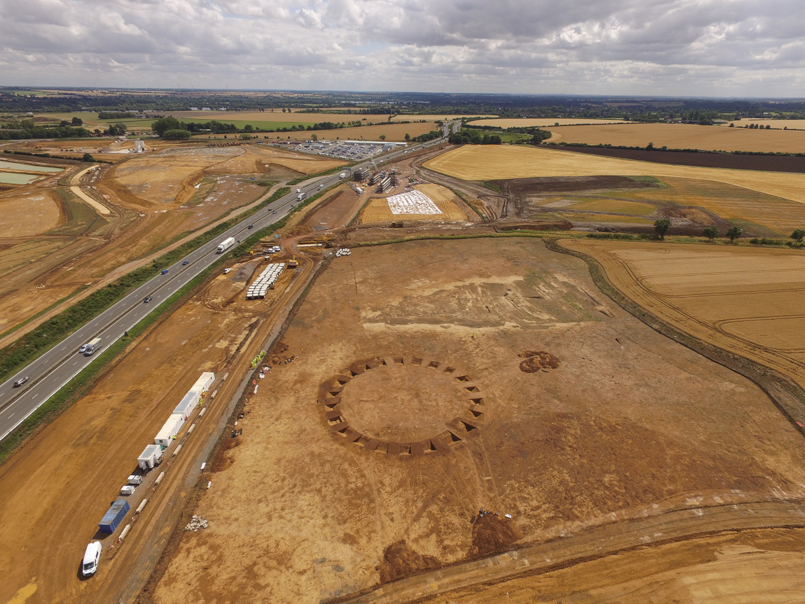 25 May

The A14 Cambridge to Huntingdon Improvement Scheme
Headland's part in the UK's largest archaeological project
With our reputation for delivering on major infrastructure projects throughout the UK and Ireland we have been eagerly participating in projects such as the A14 Cambridge to Huntingdon road upgrade and of course HS2. We have built up a fantastic team with experience working on major projects such as the M74 Glasgow and the Aberdeen Western Peripheral Route/Balmedie-Tipperty .
On projects such as the A14, clients are increasingly keen on joint working arrangements amongst their subcontractors; spreading risk, increasing capacity and taking advantage of complementary skill sets. In response Headland have teamed up with MOLA to form 'MOLA Headland Infrastructure'.
Currently you will see us working away on Highways England's £1.5bn A14 Cambridge to Huntingdon road upgrade, one of the largest ever archaeological projects in the UK.
Here, we have been investigating over 40 sites dotted across the Cambridgeshire countryside, uncovering over 6000 years of human occupation.
Over 250 archaeologists and specialists from the UK and mainland Europe have been brought together to deliver the project to programme and an innovative traineeship scheme has seen 24 trainees coached and mentored at the beginning of their career.
To date these archaeological investigations have generated 140 tonnes of environmental soil samples, 7000 artefacts and 250 000 site records, which are being processed rapidly by experts in a unit set up for the scheme.
The archaeological discoveries include a Roman trade centre, a medieval village and three prehistoric henge monuments. We have also unearthed artefacts of national significance including a jet Roman pendant depicting the head of Medusa, a rare Anglo Saxon bone flute, a Neolithic flint axe-head, and preserved Iron Age timber ladders. These findings and more have recently made it into the news and you can read about them at any of the links featured below:
The Guardian – 'Anglo-Saxon settlement and Roman army camp found in A14 bypass dig'
BBC – 'Medusa pendant and Medieval village found during A14 excavations'