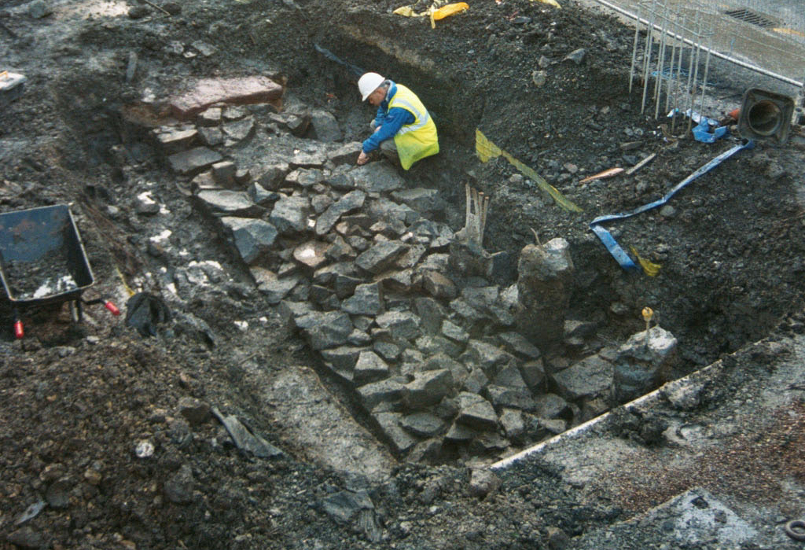 24 Nov

Relocating the King's Wall

Between 2002 and 2004 Headland undertook several stages of archaeological fieldwork at the site of a housing development at 144-166 Cowgate in Edinburgh. During these excavations a late medieval building and the remains of two extensive walls running along the north side of Cowgate were discovered.

The two walls were clearly part of the same defensive structure.  The first (left)was over 30m long, cutting across closes and burgage plots with no evidence for any gates or breaks in the wall. The second wall (above) was over 9m long and 1.8m wide and also had no indication of a gate. The scale of the wall is suggestive of a fortifications rather than a building. The wall remains were dated to the 14th century and are believed to have been part of the medieval defences of Edinburgh known as the 'King's Wall' which preceded the later, more famous, Flodden Wall.

Edinburgh had several town walls; the King's wall is associated with a charter of James II from 1450 that ordered the building of town defences to protect the inhabitants of Edinburgh from 'our auld enemyis of England'. The overall line of this wall is not well known and what is known is based on documentary and map sources. The line of the early wall was thought to have been located approximately halfway up the slope between the Cowgate and the High Street and the archaeological remains found at the lower Cowgate end of the slope are therefore particularly significant as they locate it further south.

The later building dates from the late 15th century and was probably a stable.  The rest of the site was open wasteland at the time.  The development of the area into the part of urban Edinburgh started at the beginning of the 17th century. The post medieval remains include two barrels set into the ground which actually may be two halves of a whole. They may have been used for some kind of industrial purpose. The better preserved barrel had a base and contained large amounts of animal bones, a clay pipe stem, and a glass bottle base from the late 17th to early 18th century.

The majority of the finds came from thick layers of 15th and 16th century hill wash combined with midden material washed downhill from the High Street. Finds include floor tiles, window glass, coins, trade tokens, spindle whorls, a seal matrix and a variety of pottery.  The seal matrix was made of lead and would have been used to impress wax seals on documents. It would therefore have been owned by someone of wealth and importance. The details of the seal design would have included the owners name but are, alas, illegible.

If you are interested in learning more about the excavation results they have been published as a part of the Scottish Archaeological Internet Reports by the Society of Antiquaries Scotland.