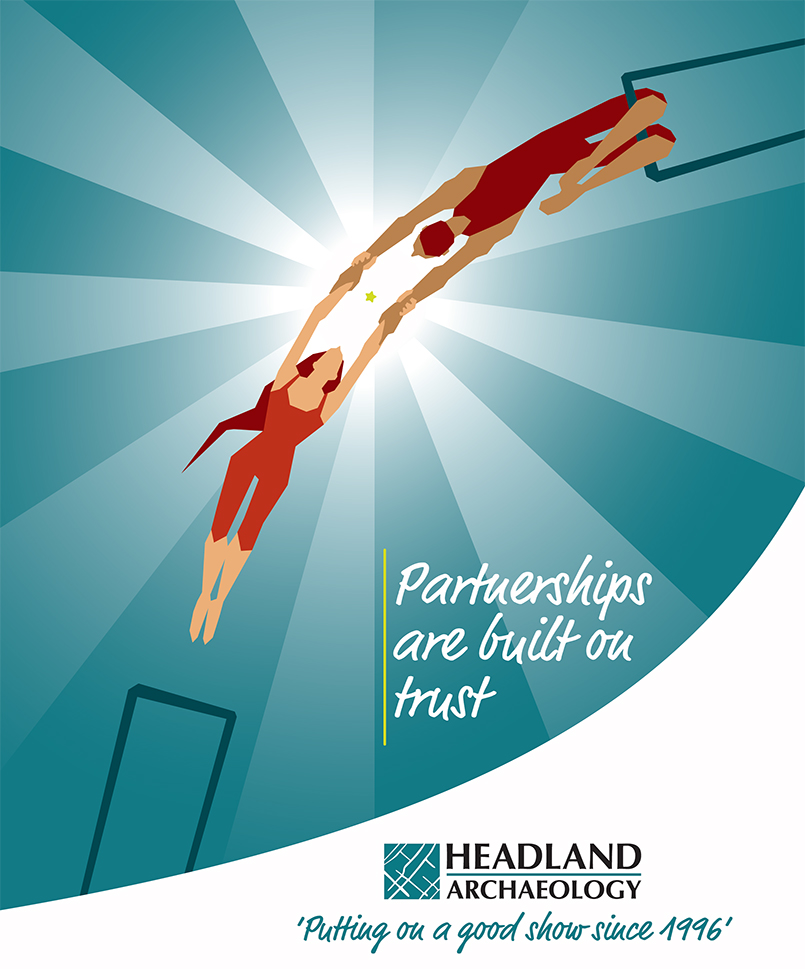 01 May

Partnerships are Built on Trust

We would like to introduce our new CIfA back cover and some of the thought that went into this years theme. In view of the scale of the infrastructure projects headed our way in 2016-7 the board identified 'Partnerships' as one of the key focal points for the business. This was partly driven by our clients who want to see risk minimised but also to secure resources appropriate to the scale of their projects. The consortia route is one way to deliver the right levels of staff, equipment, expertise and financial security. External supply chains and internal systems are also likely to be become stretched, so it was essential that we looked to the future. We felt that the 'Partnership' focus addressed all of these issues and we have invested considerable effort into the building of real cooperation based on trust and transparency.

At the company level Headland have teamed up with the MOLA, one of the leading and longest standing archaeological organisations in Europe. Together we provide a team of c. 500 staff with complementary experience and expertise in both fieldwork and specialisms. Both companies felt it important to develop seamless systems allowing members of either company to cover any eventuality. Field teams are deliberately mixed to promote cross-company working and recording systems, including survey and IT have been amalgamated, picking the best from each of the parent companies. This, in itself, has been an illuminating process with a considerable investment in time and money. It has been an essential part of building trust and working relationships that are already benefiting clients on projects such as Thames Tideway and the A14 improvement scheme (Cambridge to Huntington), the largest archaeological project in Europe for many years.

We are also working hard to develop relationships with other archaeological companies that offer local expertise, as well as suppliers of plant and equipment, IT (Excellimore) and Business systems (Union Square). Internally too, we have been working to ensure that potential siloes between departments and offices are addressed with joined-up business development and intensive training programmes from the coal face to senior management.

Over the years we have prided ourselves on taking our annual focal points from management concepts to on-the-ground implementation. This is a great example of what we can do as a team with everyone on board and moving in the same direction; with everything now in place, we can look forward with confidence, safe in the knowledge that our people and our systems are ready for whatever the new year may bring, including HS2.