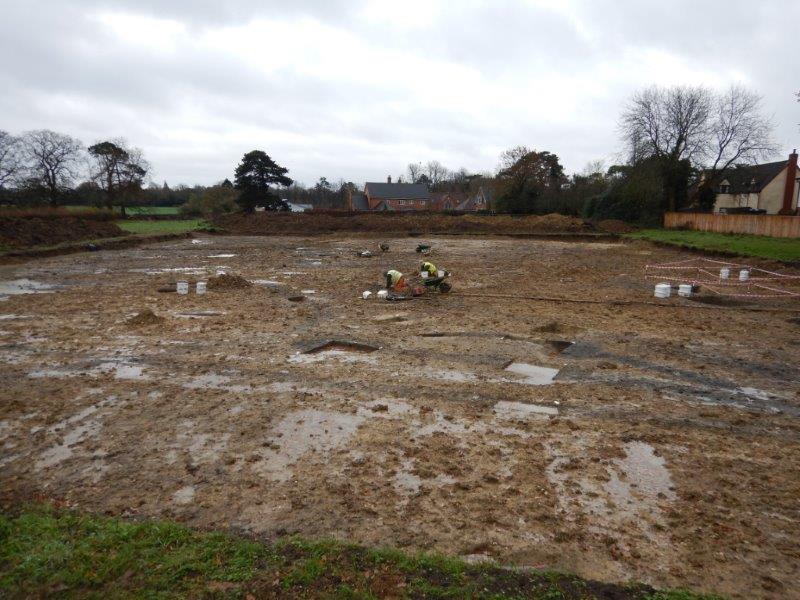 04 Dec

Norman Remains Unearthed as Dig Reveals Secrets of Cambridgeshire Village's Past

Archaeological excavations by our south & east-based team have unearthed an early Norman house thought to date from the 11th Century.  The dig is taking place in the village of Cheveley near Newmarket, close to the Suffolk/Cambridgeshire border; ahead of a new housing development. Headland's team have so far uncovered evidence of a small, early Norman house, garden, paddocks and trackway. They have also found a knife and locally produced medieval pottery that would have been used as storage jars, for cooking and plates.

The excavations are being carried out as part of planning conditions following the approval of a 15-home development close to the centre of the village.  The archaeological advance works are  undertaken on behalf of developer Lightdoor Ltd, which has instructed Cambridgeshire-based Cheffins to oversee the sale of the new homes.

Michael Tierney one of our project managers, said the scale of the discovery – with surviving house, garden and paddock areas – made it unusual.

"The house was timber built, raised on timber beam foundations with a thatched roof and had at least two rooms," he said.

"There was a small clay quarry pit near the house that was used to get clay for wattle and daub walls and then used as a rubbish pit. The people living here would have been a step up from the slave population recorded in Domesday. They would have straddled the free/unfree classes in feudal England, with a lot of obligations involving work on the Lord's demesne but a fair degree of autonomy in developing their own plots of land, like this one in Cheveley. Part of that autonomy involved working at other crafts and there's evidence of small scale metal working activity at the site."

The name Cheveley dates from Anglo-Saxon times and originally meant Chaffinch Wood. After the arrival of the Normans the village slowly grew from a population of 25 families in 1086, when the Domesday Book was compiled. By the 1400s there were at least 350 people living there. Historical records show that in the 1440s there was a ruined house just outside Cheveley, which ties in with the recent discovery. Pottery discovered in the enclosure and paddock ditches around the site also suggest there was a structure of some kind on the plot for at least 200 years in the 11th and 12th Centuries.

This is Cheveley's first archaeological excavation. The broader history of the village is well-documented from the construction of the church and the medieval castle. But what tends to be missing from the historical records are traces of the lives of the majority of the people – those who played such an important role in laying the foundations for the modern Cambridgeshire landscape that we are so familiar with.