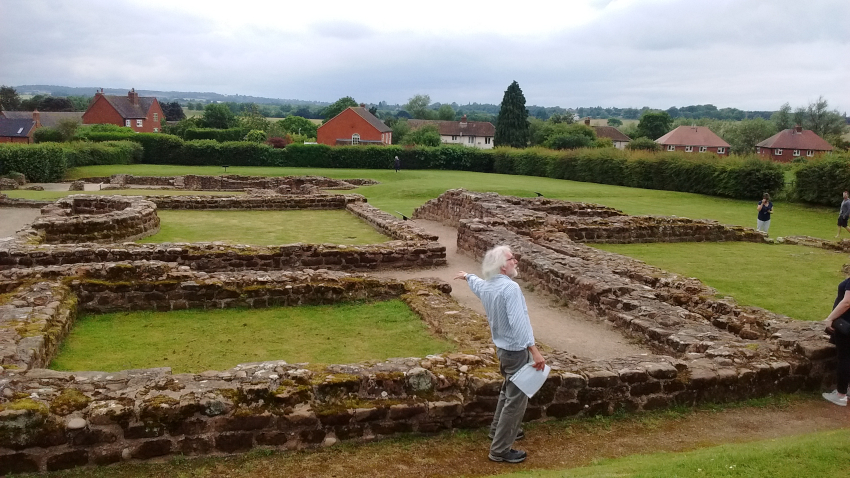 23 Aug

Supporting Continued Professional Development for Staff

At Headland we prioritise the continual the professional development of our staff; whether this is through our internal training program or facilitating their attendance of conferences and workshops. Earlier this summer, Anna, one of our post-excavation staff, took part in the Study Group for Roman Pottery (SGRP) conference in Atherstone, Warwickshire, as a part of her professional development. Below she has written about her experience attending the conference.

My interest in pottery started during my time at university in Krakow, Poland where I analysed an assemblage of medieval pottery for my Masters degree. After many years working on archaeological sites in Britain I decided to go back to working with pottery, this time with Roman assemblages. As part of my training at Headland I have been working on the A14 Cambridge to Huntingdon Improvement Scheme assemblage with Adam Sutton, a Roman pottery specialist, who has been very enthusiastically sharing his knowledge and expertise with me. I joined the SGRP last year and I thought that this year's conference was a good opportunity for me to see how the group operates, meet some of pottery specialists and take part in the presentations.

The location of the conference is notable because it's situated near a very important Roman production centre in Warwickshire. The pottery that was produced here, mostly mortaria (kitchen vessels used for pounding. mixing or grinding food), is named after the kilns that were spread near Mancetter and Hartshill.

I attended all of the sessions over the 3-day conference. It was great to hear about the archaeological background of the Mancetter-Hartshill site, as well as its production repertoire and their territorial coverage. The conference also covered topics such as Roman pottery in Leicester, Warwickshire and Yorkshire, glass production in Roman times, and other interesting new research and approaches related to the field of pottery analysis. I greatly enjoyed learning about mortaria's stamps and their variety. One of the presentations was about organic residue analysis of pottery which can add new information to our interpretation of the vessel. Another interesting feature of the conference was the pottery viewing, which is an important part of the process of acquiring pottery related knowledge.

I also took part in an organised trip to the Mancetter kiln site and Wall, an important staging post along the Roman military road known as Watling Street; which contains the remains of a Roman bathhouse and a mansio (Roman inn). We were warmly welcomed there by some amazing volunteers who prepared a little presentation and some very tasty tea and scones for us. We were also able to have a look around their museum collection.

I am very grateful for the funding I obtained from Headland to take part in this very beneficial and interesting event. It is very important for me to enrich my knowledge in this field in order to become a fully trained and professional pottery specialist.