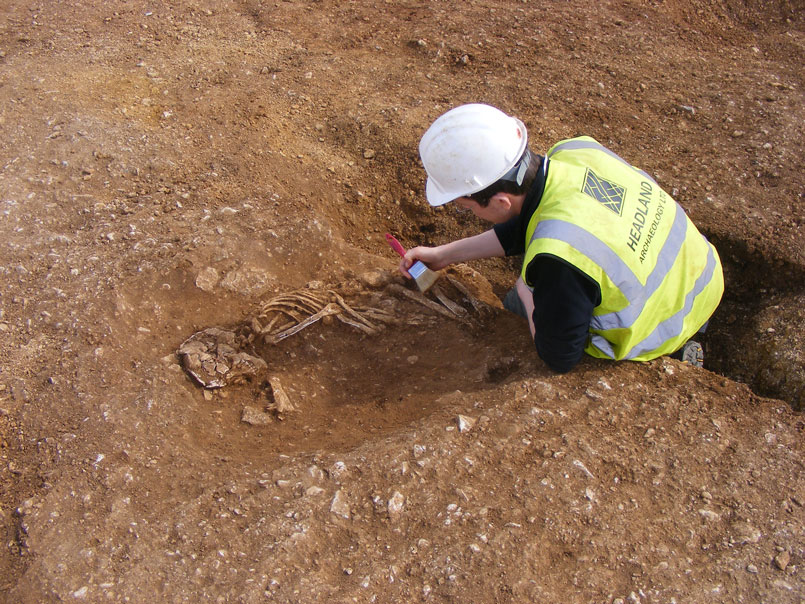 11 Mar

Iron Age Burials Found at Fairford Housing Development

A team of heritage professionals from Headland Archaeology Midlands & West has been working at a new housing development being built by Bloor Homes at Home Farm, Fairford in Gloucestershire. We have uncovered evidence for human occupation dating back over 2,000 years. The first phase of work took place in spring 2013 and uncovered 12 circular pits, probably once used for storing food. Strangely, when these pits were backfilled in antiquity, five of them had human burials placed within their upper fills. Other burials, including one found in the second phase of work, had been placed crouched into shallow scoops in the ground, suggesting that the bodies were tightly bound prior to interment. The storage pits and burials are thought to date to the Iron Age period (800BC – AD43).

Further evidence was found that the area had been settled by the Anglo-Saxons, in the remains of several distinctive sunken-floored buildings which were probably used as small workshops or temporary dwellings. Fairford is known to have been a Saxon settlement and it is likely that the remains at Home Farm were related to it.

Why dig here?
The excavation was required as part of the planning process by Cotswold District Council, monitored by Mr Charles Parry of Gloucestershire County Council and funded by Bloor Homes. Jo Vallender of the Environmental Dimension Partnership oversaw the excavations as the developer's archaeological consultant.Work on site is now complete and Headland Archaeology is undertaking further study of the remains. The findings will be published at a later date.