26 Apr

Edinburgh Trams Excavation Publication and Exhibition

In 2009 Headland staff excavated a previously unknown section of the medieval cemetery associated with South Leith Parish Church on Constitution Street in Edinburgh. These works were carried out in advance of the then expected construction of the Edinburgh Tram line to Leith and Newhaven.

These excavations have allowed archaeologists a view into what life was like for the people living in the medieval port. Osteological analysis, radiocarbon dating and stable isotope analysis have revealed key facts about the age, sex, build and more of the 378 people whose remains were recovered. This also led to a unique opportunity to work with students from the Centre for Anatomy and Human Identification at the University of Dundee in order to bring these historic finds to life with forensic facial reconstructions.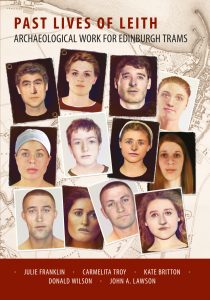 This work has culminated in the publication of a book 'Past Lives of Leith' and an exhibition at the Museum of Edinburgh which will run until October 6 2019.
If you wish to purchase the book details on how to do so can be found here.