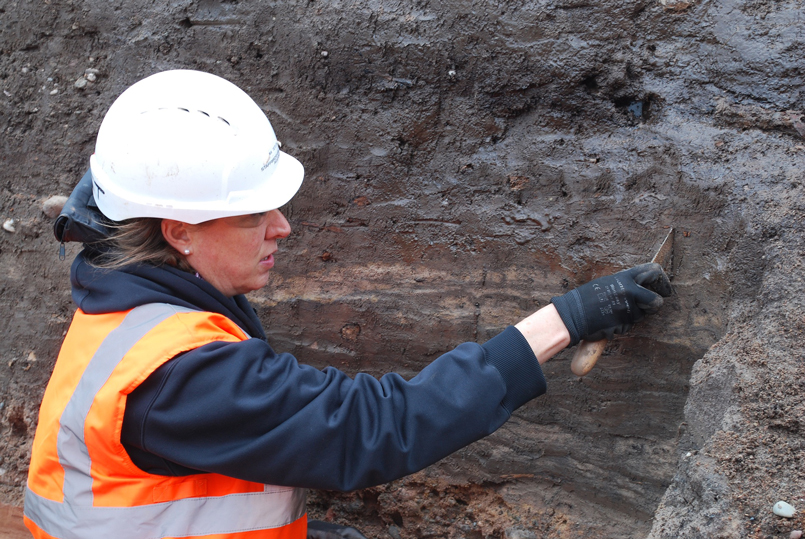 25 May

A Rare Saxon Butter Churn Find From Staffordshire Rail Development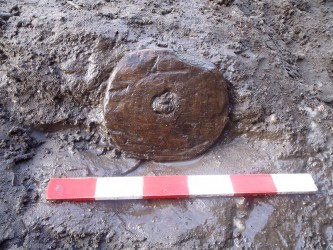 Work in Staffordshire on a large rail improvement scheme has uncovered an unusual find in the form of a lid from a Saxon butter churn. The find was made by our own Dr Emma Tetlow, the senior archaeologist at the site where Network Rail is building a new flyover and 11 bridges to remove the last major bottleneck on the West Coast main line as part of the £250m Stafford Area Improvements Programme. The work is being delivered by the Staffordshire Alliance – a partnership of Atkins, Laing O'Rourke, Network Rail and VolkerRail, and the archaeological side of the project is managed by Joe Abrams of Headland Archaeology. Hundreds of thousands of tonnes of earth have been moved at the site to date, with Emma on hand to safeguard and record any archaeological remains uncovered during the groundworks. The find, along with further evidence of worked wooden stakes and wood chips, was made in a section of waterlogged peat close to Meece Road.
There were no associate finds of pottery or metalwork to provide any clues to the date of the wooden finds. Evidence of prehistoric activity had been uncovered in the same area of the site near Norton Bridge and we thought at first the butter churn could be from the same period. A number of Victorian stoneware bottles bearing the names of breweries from Bristol to Manchester have also been unearthed. The wooden lid was radiocarbon dated to see if it was contemporary with any of this activity. To everyone's surprise the date came back as AD715–890.
This places it squarely in the Saxon period and means it is broadly contemporary with the famous Staffordshire hoard. During this period the area was in the heartland of the kingdom of Mercia and was populated by a pagan tribe called the Pencersaete. Existing archaeological knowledge of this period for the north and east of the Midlands is scarce and Saxon finds of organic materials such as wood are very rare indeed, so this is a fantastic find, of regional significance.
Evidence of plant remains within the peat can also provide evidence of the climate and environment in the past. The Saxon period was a time of dynamic climate change. It was increasingly unsettled and stormy with flooding and an increase in temperature. The weather patterns were similar to those we are experiencing today.
Local residents will have the chance to view some of the objects and discuss them with Emma and other colleagues working on the site at an information day in June, keep an eye on our facebook page for more details. They look forward to sharing and discussing some of these finds with the community. She is also preparing a paper on the finds for the Stafford and Mid-Staffs Archaeological Society.